student fellows, interns and graduates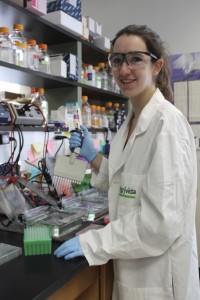 In addition to its state-of-the-art facilities, a key benefit of the Incubation Program is its ability to connect incubator companies with University faculty and students. As part of its program, the Incubation Program advertises to suitable students and helps recruit them to work as fellows, part-time employees or interns.
What have previous interns said about their experience?
"couldn't have asked for a better mentor"
​ "great learning experience to see real world applications of theory learned in the classroom"
"the presentation definitely helped me to organize and think critically about my results"
"wonderful experience and I am very grateful for the opportunity"
For more, read the April 2017 OVPR post: TIP Internship Program Delivers Big Rewards.
2017 UConn-TIP Innovation Fellows Program
As of 3/29 - applications for summer 2018 have been recieved and are being matched to our TIP companies!
The UConn-TIP Innovation Fellows Program pairs UConn students with on-campus University start-up companies for mentored research fellowships in Business or STEM areas.
What kind of research does a UConn-TIP fellow do?
UConn-TIP fellows participate in mentored research with their host TIP company. The research could be in STEM or Business areas such as:
chemistry, molecular biology, pharmacology, bioengineering, computer sciences and more
marketing, accounting, planning, communications, management and more
UConn-TIP fellows receive special academic enrichment including seminars and final research presentations at UConn-TIP Research Day.
Check out these media items about the 2016 UConn-TIP Program: read the Hartford Courant's article.pdf and Listen to the WHUS podcast Discovering New Advances (DNA)
Pictures from the August, 2017 Summer Fellows Research Day
The next application period will be Spring 2019.
Research-for-Credit requires previous experience as a UConn-TIP summer fellow and is ad-hoc.

Program Contact:
Dr. Caroline Dealy
Director, UConn-TIP Bioscience, Entrepreneurship & STEM Fellowship Program
dealy@uchc.edu
860.679.1193
Our UConn Sponsors & Partners:
Center for Entrepreneurship and Innovation, School of Business
College of Agriculture, Health and Natural Resources
College of Liberal Arts & Sciences
Institute for Student Success/McNair Scholars Program/LSAMP
Office of Undergraduate Research
School of Dental Medicine
School of Engineering
School of Fine Arts
School of Medicine
School of Nursing
School of Pharmacy
Women in Science & Engineering/ Learning Communities and First Year Programs